Our guides are not only experts in the areas they are in charge of but also have several differentiators including:
1. Most of them are national government licensed guide interpreters.
2. All have passed our rigorous in-house certification process.
In addition to their certifications, we attach significant importance to our guides having international guests' perspectives. What is taken for granted to the Japanese is very often not to our international guests. Our guides know what questions and interests our guests may have. Hence, they are proactive and sensitive to them. Throughout the tour, our guides encourage our guests to ask any questions.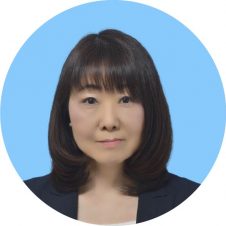 Hello everyone!
I hope people who visit Tokyo have an enjoyable time and know the charm of it while exploring this exciting city. I believe interaction with local people and getting to know their country, life or culture enriches your life. I would be more than happy to introduce Tokyo and Japan to you as much as I can and hopefully your trip will become a memorable one.
I am a Tokyoite, was born and raised in Tokyo and love this city. My family roots in Tokyo can trace back to the Edo period (19th century) at least. After graduating from colleges in Japan and the U.S., I have been working for non-Japanese and Japanese companies for years, in charge of marketing. I like to travel, visit art museums and take pictures. I look forward to seeing you.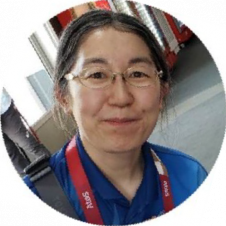 I am an office worker living in Saitama, where one of the Tokyo 2020 Olympic/Paralympic games took place.
I have been doing volunteer tour guiding for two and a half years, which I enjoyed so much that I improved my guiding skills and have become a government licensed professional.

You can enjoy Tokyo in various ways: experiencing the atmosphere of Tokyo 200 years ago at Asakusa; buying almost anything you want, like clothing, cosmetics, liquor, home appliances at Shinjuku; tasting fabulous but reasonable Japanese food, like ramen and sushi.
If you need some help to enjoy this wonderful mega-city, I am at your service. Thank you for reading!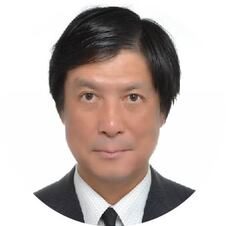 Born and raised in an old town in Amagasaki, neighboring to Osaka City.
Very good at oral and written communication in English and Japanese.I live in the east side of Tokyo Metropolitan, so I speak both Osaka Dialect and Tokyo Dialect fluently.

People in Osaka are very interesting, I am one of them.
I have some friends who are professional comedians, such as a comic storyteller or a pair of comic dialogues.
I like to watch professional baseball game. I am an enthusiastic fan of Hanshin Tigers.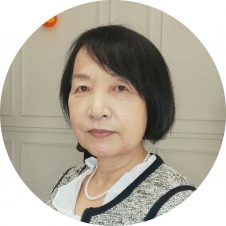 My latest work was at Japan office of Swedish telecommunication infrastructure company.
I worked for that company over 20 years in the areas of logistics, education, project management, etc. Their head quarter is in Stockholm so that I had visited Sweden more than 10 times on business.
The company language is English as there are multinational workers even in Japan. If there is a person who doesn't understand Japanese in a group, our conversation should be done in English. They gave me opportunities to visit China, Philippines, Malaysia and Italy for their global meetings. 
I can still sing Swedish song, "Helan Gar", as Swedish colleagues always sing this song when they make toast. 
Yoko loves Asakusa, the heart of Tokyo. Her career as a tour guide started from there. She used to work as a certified Japanese teacher in Japan and in the US. Through that experience, she learned "teaching language is teaching its culture." So as a tour guide, she introduce not only facts but also its background stories as much as possible.
Having lived in Europe and the US for 18 years, she was deeply touched by how friendly and kind the locals were. She realized how important it is to interact with locals since she was able to enjoy many memorable experiences. These nice experiences made her become a tour guide.
Hello, My name is Sachiko. Please call me "Sachi." I'm a National Government Licensed Guide Interpreter. I was born and raised in Niigata City, facing the Japan sea. My hometown has the sea and mountains so we can enjoy both seafood and edible wild plants. Now I live in Saitama prefecture, inland prefecture located to the north of Tokyo. My hobbies are traveling, watching movies and walking different places. I love nature. I went to various countries and saw many picturesque sceneries. For example, the sunrise in the Sahara desert, Machu Picchu in Peru, safari tour in South Africa and so on. I'm really looking forward to meeting new people from all over the world.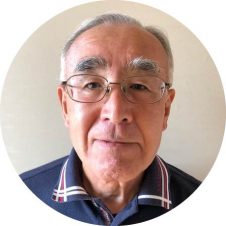 Tokyo is a fascinating city for tourists.
Because,
Tokyo is a safe city
Security cameras don't pass up crimes.
Tokyo is a convenient city for travelers
Public transportation service is punctual.
Tokyo is a gourmet city
You can eat world delicious dishes in Tokyo.
 I was born, grew up and worked in Tokyo. I worked for the Tokyo Fire Department for more than 36 years and was engaged in fire service in many areas in Tokyo, noticed citizens' pride and love to their areas and felt Tokyo's hidden merits. Therefore, as a guide, I'd like to send Tokyo's visible and invisible charms to tourists.
My hobby is jogging. I took part in 2013 and 2014 Honolulu Marathon and 2016 Yokohama Marathon and barely crossed the finishing line. I gave up Tokyo Marathon after drawing losing numbers.
Since 2016 I have guided aged groups to various places in Tokyo as a volunteer. I sometimes imagined how I could change the explanation to foreigners while guiding tourists. Though my experiences as a guide have drastically decreased since the Colona Pandemic, I have continued jogging 10 KM, 3-4 times a week. I'm always prepared to next guide request!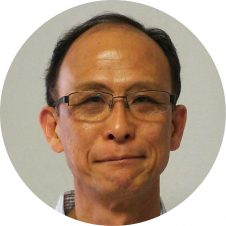 If I am Toshimitsu Fujino, an interpreter with a national license. It is my pleasure to introduce myself. I was born and raised in Shibuya, Tokyo, and now live near Chiba. I still have good memories of old Tokyo, where I spent most of my childhood and school days. During that time, I visited places near downtown, such as Asakusa, Ueno, and Ryukoku, east of Tokyo, west of Tokyo, and downtown. It has an old, old atmosphere of old Tokyo.
I would like to introduce old and new Tokyo. There are many seasonal festivals in Tokyo. In each area, cherry blossom viewing, flower festivals, dance festivals, and various festivals are held. Among them, the festival of the local shrine is my favorite. At festivals, people carry shrines through the streets and litters to bring the blessings of God to their homes. In fact, I once had the experience of carrying a large litter. It was really exciting and fun with energetic mibbing. Would you like to go to a festival? The energy, passion and emotion of the community you see is the essence hidden under the calm Japanese look. Let's enjoy together!
I love sumo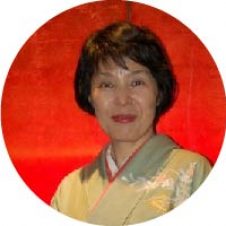 I am a national certified guide in English and Chinese and now studying French as well. I worked in England and China earlier in my life and enjoyed experiencing different cultures and communicating with local people.
Now, live in an old and traditional area of Tokyo ("Shitamachi", near Asakusa and Ueno), very interesting historically and culturally. I myself love walking around and learn and discover more and more. The monuments that witness various historic events through the transition to today's Japan, the traditions preserved by local people, the beautiful scenery of each season with temples, shrines and the nature in harmony…
I would like to share my knowledge with you and be a guide to help you know Japan better and enjoy your stay!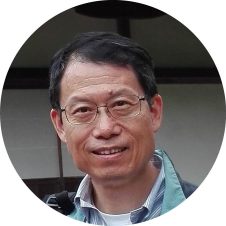 Hello, my name is Tatsu. I am a Licensed English tour guide-interpreter.  I can guide you based on your preferences in Tokyo.
I was born and raised in Tokyo and lived in Hiroshima for 5 years and also lived in New York for 5 years.  In 1976, I sailed from Tokyo to New York to participate in the Bicentennial ceremony. When I was in New York with my family, our two sons went to a public school. They were helped by local people very much. And now it's my turn to help you. I am a Certified Buddhist English Guide. So, I can guide you to a temple with some explanation about Buddhism. If you have someone who can tell you about the place you visit and the story behind it, the tour may become more enjoyable.

I would very much like to be this someone to you. Thank you, and I'm looking forward to seeing you soon.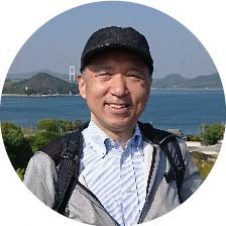 Hello,everyone!
I am Takahiro,a national licensed guide interpreter. I was born in Saitama,grew up in Chiba and Tokyo. Now I live in Yokohama,Kanagawa prefecture. I have been working for the bank in Japan for 37 years. So I have extensive knowledge on finance,banking and monetary policy.
My hobbies are playing tennis and traveling in Japan. I am a fan of Naomi Osaka,one of top-ranked female tennis player. I like traveling famous sightseeing spots in Japan. That is why I can tell you a variety òf interesting stories not only in Tokyo but also in other cities througout Japan. In addition, I am keen on Sumo,national sport in Japan. Sumo is closely related to Japanese history and native religion,Shinto. I want to share my views on Japanese culture,tradition and way of thinkig with you. Let's enjoy visiting various exciting spots in Japan. Background kowledge and information regardig the sites are useful for your visit. I can be a great help!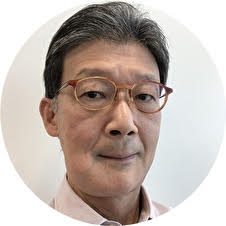 Charmed by Asakusa, Miz likes  to take a stroll in the downtown where the new and old, traditional and modern, holy and vulgar, are mixed around. He guides in the area with episode of the changes in peoples life there.
After engaged in international  business with various region over 40 years, he believes meeting new people is not only introducing himself and Japanese culture but understanding what the guests think important as well. 
He used to play in the Rock and Fusion band and nowadays spend his days for gardening.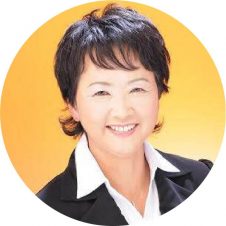 I was raised in Ryogoku(famous place for having many sumo stables) the down town of Tokyo, while seeing sumo wrestlers passing my house by. I have worked as a national licensed English guide for more than 10 years. My guiding work usually covers the area around Tokyo including Nikko, Kamakura and Hakone. Of course, I have long tours throughout Japan such as Takayama, Shirakawago, Nagoya, Kanazawa, Matsumoto, Nagoya, Osaka, Kyoto, Nara and Hiroshima.
I love Japan very much. Japan is attracting a lot of people from all over the world. I guide with passion to tell the wonderfulness of Japan's history and culture, things which attract foreign visitors. I spend my free time visiting Japanese traditional theater performances such as Kabuki, Noh and museums. My hobby is going onsen-hot spring, cooking and doing Yoga.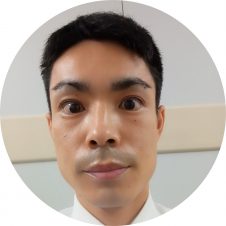 Welcome to Japan.
I hope every visitor to Japan has an enjoyable and exciting time.
We have a Japanese word "Shitamachi ", lower part of area but can feel a traditional atmosphere. I was born and raised in the area of Shitamachi in Tokyo. I am very pleased to introduce many aspects of the Shitamachi and even how I was raised in the environment.
My personality is very friendly, hard-worker and service-oriented person.
I am trilingual in Japanese, English and Chinese and have been working as a hotel staff as well.
My hobby is traveling abroad. Sometimes I encountered a lot of hardship during the travel.
The toughest experience for me is that I was riding on a wrong train in New York. After getting off, I did not even know where I was. I was strolling around the suburb of New York City, in which it seems like dangerous during midnight. Fortunately, I found a local bus bound for airport and managed to go back to a hotel. Therefore, I can kindly consider people very well.
I am looking forward to seeing you soon.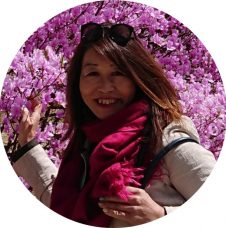 Hi, welcome to Japan. Please call me Ma-chan.
Born in temple, my father and my brother being monk, I grew up surrounded by Japanese traditional arts. Since childhood, I have learned a variety of Japanese cultures, such as flower arrangement, IKEBANA, Japanese dancing, NIHONBUYOU, tea ceremony, CHANOYU, and Japanese musical instrument, KOTO, and now I am a grandmaster. Through those lessons, I have realized that those arts, which are handed down generation and generation, are born with deep respect for rich nature of Japan and create what Japan is now. To become a tourist guide was a conscious choice sharing my love for the Japanese culture with people that are visiting Japan.
I am active, energetic, and a person filled with curiosity who enthusiastically explore everywhere in Japan, not only urban but also rural areas. Traveled by various means, such as car, public transportation, bicycle and sometimes on foot, I have encountered many little-known but equally rewarding treasures tucked away up back street or behind an unassuming gate or doorway. I would be very happy if I could share the detailed interesting information about the life of Japan as well as hidden gems which are difficult to find in guide books.
I am a warm and hospitable person who is willing to provide all my guests with many opportunities to learn, experience and taste Japan in an engaging manner. Furthermore, the tours I provide are a pleasant blend of information, stories and anecdotes that offer unique aspects of life in modern Japan. With my friendly, kind, lively personality, and deep knowledge, I will be sure to help enrich my guests' travel and they will leave Japan with much more than they come: a treasury of knowledge and a good friend.
I am looking forward to seeing you soon.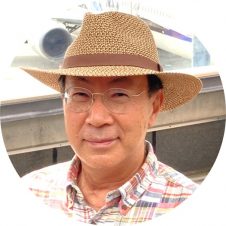 I was born in Sapporo, northern Japan, and had been there until high school. After that, I lived in Tokyo, Osaka, Boston, and Hanoi. My family consists of my beautiful wife, my mischievous black cat George, and me. My hobbies are cooking, making soba/buckwheat noodles, playing golf, traveling, hiking, and listening to music such as Jazz, Soul, and Rock. Having worked in an office in Shinjuku for over 30 years, I know the nightlife of Shinjuku very well.
After studying urban planning at the graduate school of MIT, I have been involved in urban development projects in Asian cities for more than ten years as an architect and urban planner. I was keenly aware of the importance of understanding each other's cultures, customs, and ways of thinking when working locally. As my second career, I want to help people who come to Japan from abroad to understand Japanese culture, customs, and ways of thinking. As a guide, I would like to answer the simple questions that foreigners have as kindly as possible and enjoy walking around Tokyo together. I would appreciate it if you told me about your country.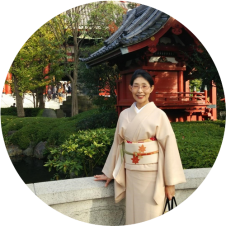 Welcome to Japan! The pandemic is finally coming to an end. Japan has long been waiting for
you!
I'm Shizue. I love Kabuki and I'm a certified classical Japanese dance instructor. Besides my
real name I have a stage name, too, just as sumo wrestlers have ring names. It's exciting to live
two totally different lives as a guide and a dancer. The dance may look elegant, but it requires
lots of strength. So, I'm good at walking long distances.
I should thank my parents because I can speak in a carrying voice. It especially helps in the
crowded and noisy sightseeing spots. I'm also grateful to my dear guests, for you always give
me a chance to explore a new genre of my interests. Sumo, swords, bonsai, and architecture
are my newly cultivating fields.
Trips must always be full of joy! I'd be happy if I could make your once-in-a-lifetime trip
unforgettable.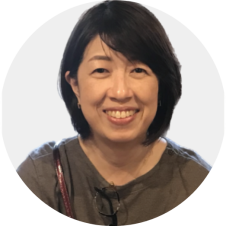 Welcome to Japan!  I'm Aki, a licensed tour guide in Japan.  I was born and raised in Hokkaido, the northernmost prefecture, until I went to study geography in college in the United States.
When I returned from the U.S. about 30 years ago, English signs or translations were not yet standard in Japan, and it made me wonder how foreign visitors might find it difficult to enjoy their visit in Japan if they don't speak the language or have friends here.  This inspired me to become a tour guide for English-speaking visitors.  There are so many fascinating things to do and places to go in Japan, but I recommend adding watching sumo during your trip.  Since the Grand Sumo Tournament is not held throughout the year, consider yourself lucky if you find the sumo tour dates (on this website) coinciding with your visit to Tokyo.  I'm looking forward to sharing my knowledge, enthusiasm and the joy of watching sumo with you soon.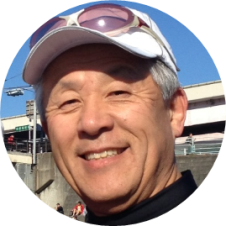 Hello, my name is Ichiro.      
Born in Tokushima, Shikoku-island and now live in Saitama-prefecture, north of Tokyo.  I worked for a bank for over 40 years.  During my banking years, I worked overseas in LA, California, and Hong Kong.  In Japan, in Osaka and Tokyo.  My hobby is running VERY slowly.  The photo shows how I look before running a marathon.  I cannot show you what I look like after the marathon. (Laughter)
By the way, I went to Yasukuni Shrine to watch the Grand Sumo Tournament dedicated to the shrine the other day.  I usually watch sumo on TV, but to see real sumo wrestlers and bouts from a distance of only about 10 meters was indeed very exciting.  I was also surprised to see so many visitors from overseas among the 6,000 people at the event, and was impressed by the fact that sumo is so well known and attracting attention from all over the world.  I ran into a group of judo athletes from France, so we watched the tournament together from start to finish.  Before I knew it, I had become like a volunteer guide for the group. (Laughter)
I've been working as a guide and interpreter since 2014 for tourists on the Tokyo Walking Tour and guests on various invitation programs throughout Japan.
My style of work is that I become a companion by feeling, admiring, and rejoicing together with my guests.  The itinerary of a tour may be the same, but it never ends up being the same tour every time.  The tours are truly collaboration with guests to create something enjoyable.  Let's visit and enjoy things that are uniquely Japanese and uniquely Tokyo together.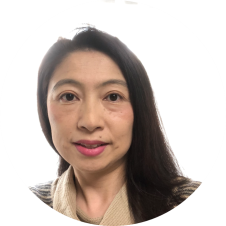 Hello, everyone. Welcome to Japan and thank you for choosing Japan as your destination. My name is Akimi, born in Niigata and raised in Toyama, facing Sea of Japan, takes three hours by Shinkansen and located about 400km from Tokyo.
I sometimes visit my hometown, Toyama. If you have a chance, please visit there and enjoy excellent cuisine, beautiful scenery of the countryside and meet people. After I graduated from the university in Tokyo, I worked as an executive assistant for several years. Then, I wanted to improve my English and learn the world more, so I departed for Canada. I stayed with some families in Ontario, I learned languages and shared the opportunity to exchange cultures. I met many nice people there. I could build rapport with local people. It was one of the experiences of precious life. Furthermore, it became a starting point for my life work including a tour guide and an English teacher. Meeting new people always makes me happy. For now, I live in Tokyo, mixed of the old and the new such as Sumo, sushi, TOKYO SKYTREE, castle ruins, Imperial Palace, subways, shrines, temples, museums and anime, etc. Are you interested? I'd like you to have a great time in Tokyo. It is my pleasure to help you know Japan much better. Have fun and make your vacation memorable. See you soon.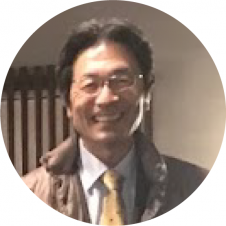 Yasu used to live, study and work in Europe and US for 18 years. His cross-cultural experiences are his original point in his guiding. He pushes the envelope in guiding by entertaining conversations with guests not only on culture and history but on varioius aspects of life in Japan in contrast with other parts of the world.
He also taps into his corporate experiences in international settings. He holds an MBA degree from Stanford University and is well versed in communication in English.